Founder of Mr. Tuxedos, Ahmed Fouad, started his career in the fashion industry among a close group of friends, while experimenting and styling bespoke tuxedos for personal use. His passion for luxury garments and the absence of a home-grown brand that offered luxury and custom-tailored men's clothing in Egypt caused the inception of Mr. Tuxedos.
Today and albeit with his busy schedule running a booming start-up, we caught up with him to discuss everything fashion, entrepreneurial drive, and most importantly, the importance of investing in Intellectual Property in the early stages of a seemingly thriving venture.
During a typical, you will find Ahmed experimenting with suit samples and new types of high-quality fabrics, matching style references on models, modifying and adding final touches to his upcoming collection, or brainstorming with his team or even his customers to revolutionise the luxury clothing scene in Egypt.
Mr. Tuxedos got its big break after a collaboration with Egyptian celebrity, Mohammed Ramadan, went viral on TikTok, and thus catapulting its brand name further into the emerging fashion scene in the region. This newfound fame has landed him opportunities to style A-List celebrities for major cinematic events such as El Gouna Film Festival and The Cairo Film Festival.
I had to learn the hard way, that if your intellectual property is not secured, I will never really achieve maximum brand prosperity neither will I enjoy the full value of my hard labour.
While the glitz and glam of making it a luxury brand in Egypt is an achievement on its own, Ahmed's success did not come easy. Through our curiosity regarding the hurdles he has had to overcome, he looked back and noted, "The most difficult part was educating myself about the intricacies of fashion design and about how I can transform my love for clothing craftsmanship into a profitable venture."
He continued by saying, "To even think of a beginning, meant altering my mindset towards working around the clock, while pursuing a fashion education abroad and relentlessly seeking out fashion and style experts so I could master the dynamics of the fashion industry and how it works. But the most difficult (and favorite) part throughout this learning process was the constant evolution of my own perception of my idea of style and fashion."
As intrigued as we were about the beginning of his entrepreneurial journey, we were very curious to know what he has in the pipeline, regarding up and coming plans for Mr. Tuxedos as he commented, "Now I have earned customer credibility for providing custom-tailored suits and tuxedos for my customers, I really want to begin to diversify my collection. As most of my current collection is usually worn only during very special events and is not meant for daily wear. Currently, I am very excited to be developing and finalizing a new chic range that will include pieces that are meant for everyday wear."
Despite what is often seen as a good economic development for bespoke startups such as Mr. Tuxedos, we can't help but note and bring up the destructive consequences of gaining overnight fame through social media and how manufacturers of cheap and fast fashion would immediately commit infringement, in order to cash in on a brand's freshly acquired fame.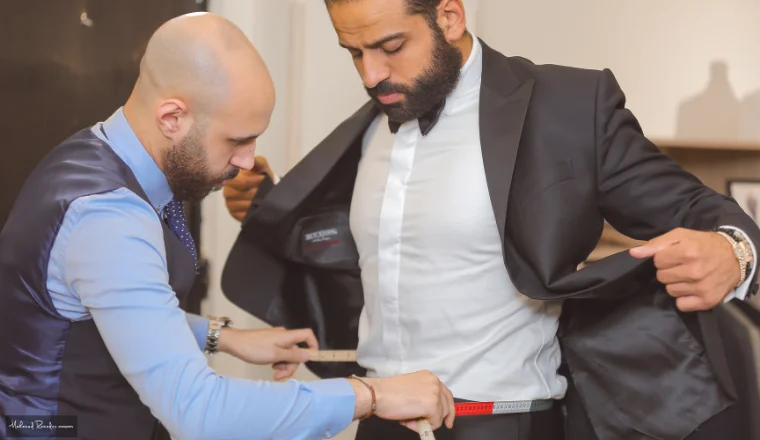 When we brought this notion up with Ahmed Fouad, he said, "I had the extremely disheartening experience of finding that my most sought-after design had been infringed upon twice, by two separate brands notorious for selling low-quality garments. I'm referring to one of my most cherished tuxedo designs, which was featured in Mohammed Ramadan's viral TikTok video, which was distressing in and of itself."
Sadly enough, when we asked him if he took any legal action against the ones who blatantly and unknowingly copied his designs, he continued to say, "These laws are very unbeknown to most people here in Egypt. And due to the fact that we had none of our designs and intellectual assets registered, and nor did I have yet secured any feature on high-end magazines, we were left with no choice but to live with it." I call it a 'Tax For Success'.
Due to this, Ahmed began to further educate himself on the importance of integrating Intellectual Property strategies and has specifically noted how everyone in the creative industry should do the same, "I had to learn the hard way, that if your intellectual property is not secured, I will never really achieve maximum brand prosperity neither will I enjoy the full value of my hard labor; not the mentioned time wasted in trying to fight the infringers when I could have used that time to grow my business".
After the extremely insightful conversation with Ahmed, he concluded our talk by touching upon advice he has for budding entrepreneurs who are also trying to enter the fast-paced fashion industry, and what he had to say was very inspiring:
"Just start. Once you develop and hone that passion for fashion and design, keep it basic yet imaginative, and stay current on global fashion tastes and trends. And most importantly, do not give up or get broken-willed as there is no recipe for overnight success. Acknowledge your errors and weak points, and put them to positive use by learning from them while being acutely mindful of how to fix avoid them along your path to success!"
You can find more about Ahmed Fouad and Mr. Tuxedos on his Instagram and website.
And if you are considering entering the fashion industry and want to mitigate IP issues, as Ahmed did. We will walk you through all the protection options you can consider. Feel free to reach out to us at +971 282 2677 or drop us a line at connect@abounaja.com and our subject matter experts will endlessly support you.
Source: https://www.abounaja.com/blogs/ahmed-fouad-and-intellectual-property